Asking the Right Questions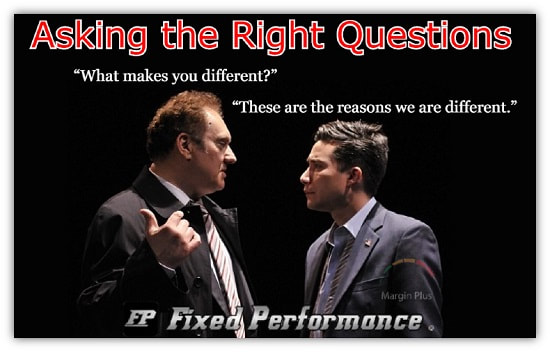 No matter what business you're in asking the right questions makes a huge difference in results. The most important questions seldom get asked or even considered when evaluating a product, individual, or company. One question that I particularly like to ask is; "what makes you different?". The truth is this should be every salesperson's presentation so the potential client can understand the real value of your product.
Let's use one of our products Margin Plus, as an example. This product helps dealerships get retail prices on warranty repairs from the manufacturer. A common question might be, "have you done this particular franchise or this state?". The answer is we've submitted for most franchises and states however, if we go to question seldom used the answer would be significant. What makes you different? Our company has assembled a team of fixed operation experts across the country to review submissions that have well over 20 years of fixed operations management experience.
We might have three separate experts on our production team review every repair order on a submission before sending it off to the manufacturer. One might ask why we have invested so much labor cost into preparation while other companies use data entry personnel at a substantially reduced cost? The answer is simple we want to be the best. We built software from the ground up that does nothing but warranty submission analysis. We've developed a process that helps dealers improve their results before submission. If the dealership data shows areas of opportunity, we coach the dealership team on how to overcome the obstacles and maximize their submission. We make this a part of the submission process and include the efforts as a part of our fees. While most of our competition hasn't written a repair order, our team lived it for years.
What makes us different also makes us the best. We will never stop looking for ways to improve our processes and our team to provide the very best service available. On-site consulting and training, warranty submissions, and our ATES programs are all built on the foundation of being the best. I hope you challenge yourself to ask the right questions and develop your company to be different.
Sincerely,
Rob Gehring, President
Fixed Performance Inc. (Fixed Operations Consulting)
ATES (Automotive Technician Employer Standards)
Margin Plus (Manufacturer Warranty Reimbursement Program)
1-888-205-8718
Cell: (419) 282-1351
rgehring@marginplus.net
CDK Certified -Approved Interface
Dealer Track Certified Open Track Partner