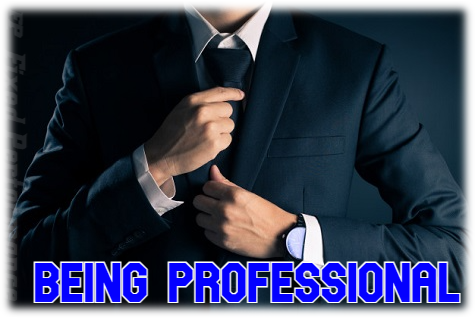 When looking at the definition of professional you can note several different thoughts. The one that captures me is "participating for gain or livelihood in an activity or field of endeavor often engaged in by amateurs. Being a professional has some foundational core beliefs that differentiate them. The first one is the attitude towards clients and coworkers. We've all experienced harsh treatment of customers by an employee with a bad attitude. This individual may have many reasons for treating a customer poorly however this unacceptable behavior isn't professional. Whenever anybody asked me how I am, I'll respond by saying fantastic, or incredible. More often than not the response is them saying I am always fantastic. Rest assured like everybody else I do have challenges that may have me thinking things are not fantastic or incredible. I do believe attitude is a choice and the professional understands the importance of making the right choice their foundation of being a true professional. The professional treats coworkers with respect and courtesy always looking for ways to assist in customer care together. The professional has the foundational understanding how critically important it is to work as a team. Constantly have your professional foundation based on solid construction always seeking improvement. Be humble and kind seeking ways to assist associates and customers with every action taken. Go above and beyond any expectation of customer or coworkers equally without concern who gets the credit. Amateurs are all around us and are being paid. The only way to be successful and have a wonderful quality of life is to be the professional.
Sincerely,
Rob Gehring, President
Fixed Performance Inc. (Fixed Operations Consulting)
Margin Plus (Manufacturer Warranty Reimbursement Program)
Toll-Free: 1-888-205-8718
Office: (419) 433-8219
Cell: (419) 282-1351
rgehring@marginplus.net
AutoSoft Partner
Auto/Mate® Affiliate
CDK Certified -Approved Interface
Dealer Track Certified Open Track Partner
Our goal is to help as many dealers as possible!