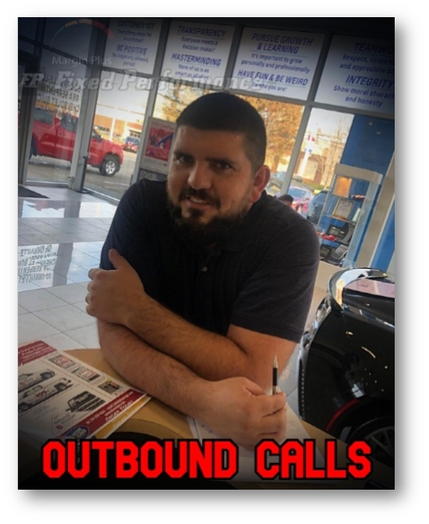 It's that time of year when many dealerships struggle to keep repair order count high. My favorite way to build repair order counts is to perform outbound calls with open safety campaigns. If this is a daily exercise repair order growth never seems to be a struggle and customer retention is never a concern. During a recent visit to Serpentini Chevrolet in Orrville Ohio, I met an individual that has it mastered.
Adam Shilling, their customer relations manager, he makes outbound calls a daily task. He doesn't stop until he has obtained a set amount of appointments. I asked him to show me his process and he explained he uses the GM global link Maxis GFAM. This provides a list of every open recall in your market. As a matter of fact he had 1,700 in the Orrville Ohio market!
That is 1,700 potential repair orders that would make your clients safer! He makes a list and checks it often just like Santa. He highlights contacts and appointments made. He works for it! I have heard so many reasons why dealerships repair order counts are down. The tool truck driver say everybody's slow and that's supposed to make me feel better. Your staff should never wait for the phone to ring and constantly making an effort on outbound calls to improve results.
​Customers appreciate calls to remind them of appointments. They appreciate calls that ask how their car is running since their repair visit. It's expected you will call them when their parts have arrived. Maybe you don't have an Adam Shilling or staff dedicated to making outbound calls. If not, don't be concerned the tool truck driver says everyone is slow.
Sincerely,
Rob Gehring, President
Fixed Performance Inc. (Fixed Operations Consulting)
ATES (Automotive Technician Employer Standards)
Margin Plus (Manufacturer Warranty Reimbursement Program)
1-888-205-8718
Cell: (419) 282-1351
rgehring@marginplus.net
CDK Certified -Approved Interface
Dealer Track Certified Open Track Partner