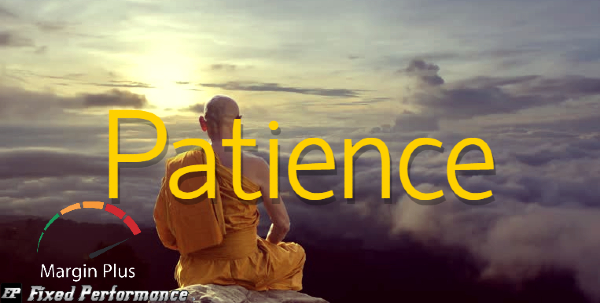 A word that seems to be coming up often these days is patience. Many companies incorporate it into their script while you're on hold or inconvenienced by the company using it. They are so bold you will be thanked for it even when you are not feeling it.

Whether or not you are practicing it, patience is something we should be developing in our daily lives. A lack of patience is destructive in our personal relationships with family, friends, and business associates. The lack of patience destroys our inner peace and quality of life. Knowing this is a characteristic that I possess, and I find an opportunity for improvement that I have implemented some self-challenges.

There are now three things in my life that will require me to be patient. The items I've selected were bothering me because they are taking so long to complete. Never big on excuses, my typical response might be to determine an action I can take to push that square peg into a round hole and move on to the next item. These three things I commit to developing my patience by allowing them the time to complete the projects while understanding the obstacles they have as well.

That doesn't mean I will ignore these three things in any fashion. I will perform follow-ups asking if I might be of any assistance to help them. The fascinating part of this exercise is the change in my perspective. I have determined a lack of patience is self-destructive and must be avoided at all costs. I will accept the imperfections of life with the understanding they are normal and must be dealt with.

I also welcome and understand developing my patience will improve my quality of life. You are now caller number 832 and have an estimated wait time of 48 minutes. Thank you for your patience your call is important to us.
Sincerely,
Rob Gehring, President
Fixed Performance Inc. (Fixed Operations Consulting)
Margin Plus (Manufacturer Warranty Reimbursement Program)
Toll-Free: 1-888-205-8718
Office: (419) 433-8219
Cell: (419) 282-1351
rgehring@fixedperformance.com
AutoSoft Partner
Auto/Mate® Affiliate
CDK Certified -Approved Interface
Dealer Track Certified Open Track Partner
Our goal is to help as many dealers as possible!