The Lost Parts Department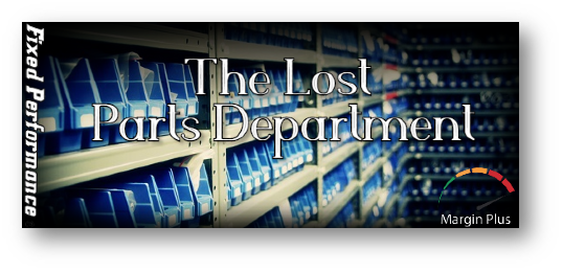 Thinking about this newsletter, the words of Rodney Dangerfield come to mind "I get no respect." Imagine trying to track down every part a technician asks for while answering the phones. As if that wasn't enough, try placing an order, dealing with vendors, pulling items to go back to the manufacturer, aged inventory, and the list could go on through the entire newsletter.

I will never forget a conversation with a General Manager that didn't understand my belief the department was understaffed because sometimes he walked by and found the Parts Manager standing at the counter. The dollar volume per man at this location is so high I don't think the individual could use the restroom facility during the day. Parts departments have been hit hard, starting with strikes at General Motors and the effects of the virus on the availability of parts.

The challenge of having available parts on hand that you need and getting rid of the parts you don't is daunting. Potential losses in aged inventory alone can add up to hundreds of thousands of dollars, if not managed properly. Manufacturers are adding to the challenges with restrictions on what can be sent back for credit and penalties for not being loyal parts purchasers. Adding more to the pressure is everyone needs the part now. If the parts aren't available right away, the technicians have to reassemble the vehicle, so the customer has a car to drive. When the parts arrive, the technicians can disassemble the vehicle once again to continue with the repair that pays them no additional fees to do so.

I challenge every position in the dealership to spend a little time in the parts department observing the challenges the staff face on a daily basis. It's likely if you checked your blood pressure before and after, you would find it increased during your visit. Find ways to show appreciation for the heart of fixed operations that is your parts department. And if you're in the dealership looking for aspirin, it's in a Sam's Club size container in your parts department.
As for me, I will profoundly express my gratitude to the entire parts team that gets it done daily. You have my respect. Thanks for all you do.
Sincerely,
Rob Gehring, President
Fixed Performance Inc. (Fixed Operations Consulting)
Margin Plus (Manufacturer Warranty Reimbursement Program)
Toll Free: 1-888-205-8718
Office: (419) 433-8219
Cell: (419) 282-1351
rgehring@marginplus.net
AutoSoft Partner
Auto/Mate® Affiliate
CDK Certified -Approved Interface
Dealer Track Certified Open Track Partner
Our goal is to help as many dealers as possible!
---
Haven't submitted for a warranty rate increase in the last 12 months? See how much additional gross profit you could get for only $350.