Your Problem Service Advisor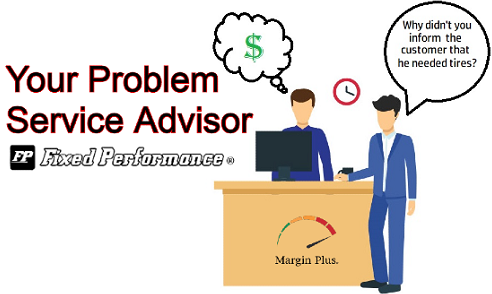 Recently I visited a dealership and talked with one of their service advisors. When we started talking about maintenance sales, I was shocked when he said he doesn't sell tires. I spent about one-half hour trying to understand why anyone would refuse to sell tires. It turns out he was concerned his bonus would be affected because his payroll plan is reduced if the effective labor rate on customer pay is below a certain level. The labor operation pays two hours he explained on a set of four tires and that would reduce his overall customer pay effective rate.
Let's look at this together in a little more detail. First of all, the pay plan of an advisor that reduces the incentive to sell tires or maintenance needs to be corrected. The second thing that needs to be discussed is an advisor attitude that places his personal pay above what the customer needs for their vehicle to be safe and reliable. My view has always been that it's the obligation of the dealership to inform and educate every customer what the vehicle needs to be safe and reliable. It's the customers expectation when they bring the car into you for service. Dealerships must provide service customers with care that exceeds everyone's expectations.
No one responds well to pressure selling tactics from an advisor trying to make their numbers better, in a way that will maximize their pay plan. Your advisor staff must have the needs of the customer well before any financial consideration. The fact is, when customers and their safety are placed first, the money follows that commitment. Provide your advisor staff with the understanding that there is nothing more important than client safety. Accept nothing less than total commitment to customer safety and you will develop customers for life.
Sincerely,
Rob Gehring, President
Fixed Performance Inc. (Fixed Operations Consulting)
Margin Plus (Manufacturer Warranty Reimbursement Program)
Toll Free: 1-888-205-8718
Office: (419) 433-8219
Cell: (419) 282-1351
rgehring@marginplus.net
AutoSoft Partner
Auto/Mate® Affiliate
CDK Certified -Approved Interface
Dealer Track Certified Open Track Partner
Our goal is to help as many dealers as possible!